I absolutely love Budapest and I am sure anybody out there would instantly fall in love with it. Yes, it's true, they managed to upset me a bit with their lack of air conditioning during the hot summer months, but that's still not a massive deal breaker. I love Budapest and I'll never miss an opportunity to visit!
I like it so much that, for the past couple of years, I've spent one full month there each year. Things were really different on each occasion and last time I visited I also had my first coworking experience at Kaptar.
But in today's article we're going to focus on being a digital nomad in Budapest: how much one month of living in Hungary's capital costs, what are you getting for your money and all the other details I consider important for future visitors.
And in case you don't know that yet, I should tell you that I'm not traveling alone. We're a family of location independent travelers: my wife, my son (who was 3 at the time of this visit) and myself. Now let's find out everything about digital nomading in Budapest!
Accommodation
I love AirBnb so it should be no surprise that we chose it to find our home for the month. We found an extremely good deal – a spacious, beautiful two bedroom apartment in the heart of the city, close to the Erzebet Boulevard and right between two important metro stations: Blaha Lujza and Octogon.
The apartment cost us 856 Euros for the month and, judging from its looks and how good everything was there – and comparing it with prices for similar places around – we managed to score an amazing deal. Here's our place:
Food in Budapest
Our plan was to eat as healthy as possible and cook at home as often as possible. Well… things didn't really go as planned, especially since food in Budapest is not only delicious, but also decently priced.
It also doesn't help that I am a huge fan of Asian cuisine and you have extremely cheap Chinese food places at every corner. For 5 Euros two people can have a good meal there… and the cheap eating out options don't end up here. Even the fancier restaurants are decently priced – and we visited those on a few occasions as well (once during our 5-year wedding anniversary), but generally we stuck to eating the cheaper food in local places or the Chinese joints.
We also discovered that their supermarket-made food is extremely cheap and delicious. We had a Spar nearby (it's difficult not to have a Spar nearby in Budapest, ha!) and bought some of their cooked food on a few occasions. We had vegetarian lasagnas, schnitzels and fries, soups and all sorts of other dishes. We were never disappointed.
In terms of the fancier restaurants, we usually paid around 20 Euros each time we ate out. These weren't the fanciest places in Budapest, but were good ones for sure. Our meals usually included two main courses (our son being too small for getting a plate just for himself), drinks for the three of us and on most occasions dessert.
What I liked about their restaurants is that the portion sizes are decent. I hate it when restaurants give you portions that could feed half the people in my country. I understand the reasoning behind that and I know that sometimes you just take home the remaining food, but that's not always possible and in most cases you end up overeating. Well, not in Budapest, where the portion sizes were – at least at the restaurants we visited – decent.
We also found a self-service vegetarian restaurant near the Budapest Museum – Vega City – which had delicious food and it was always extremely cheap. It's always packed too and a great place to meet new people!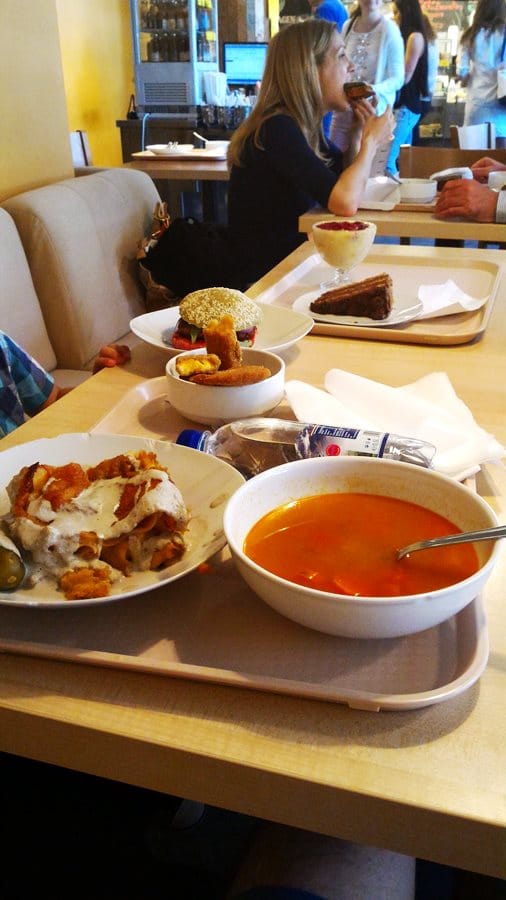 The best thing about eating in Budapest is that you have options no matter what type of diet you're following. You have vegetarian restaurants, you have paleo restaurants, bakeries and confectioneries and most ice cream places have at least a couple of no-sugar options. I loved the variety!
Best things we saw in Budapest
You can write tens of articles about things to see in Budapest – and most of their attractions totally deserve dedicated articles, which I plan on doing eventually. But until then, I'm going to share with you a few of the places we've discovered during our month-long stay here.
An interesting thing to have in mind is that we thought we had seen everything there's to be seen when we visited for a few days a year before. We were, obviously, VERY wrong. Although we had seen the top attractions that everybody should start with.
With these in mind, here are some of the things we saw and loved in Budapest during our full month there:
Basically, one of the most amazing things about Budapest is that, as long as you are in the city center, you can just start roaming the streets without a particular goal in mind. Dump the map, too. It's impossible not to stumble upon some amazing places or things to see. Budapest has a lot to offer and we were extremely happy to discover all the small places during our random explorations that we tried to do daily.
What I like about Budapest
It would be a really good summary to simply say that I like everything about Budapest and there are very few things that I don't. But I'll give you some examples of things I love. This is regular stuff in the more civilized countries – but you'll be surprised to find out that it's not the case in many, many places over the world.
For example, I found out that public transportation in Budapest works flawlessly. The number of buses and trains is also large enough that they're never packed, even during the rush hours. You can even download apps that are updated in real time, telling you exactly when the next bus or train will arrive to your station. Really cool and extremely useful – especially since it's also available in English.
Car traffic is also very civilized there. I'm coming from a country where pedestrians are rarely allowed to cross the street, where drivers honk like mad men, for whatever reasons and where rules exist only to be broken. It's no surprise that there are tons of accidents happening constantly – but this still doesn't change anything.
In Budapest, on the other hand, things are beautiful: drivers stop and let you cross the street even when you are alone (I found out that usually drivers are less polite with male pedestrians than they are with female ones, or when kids are round… but not in Budapest). I rarely heard any cars honking, I never saw – as I do in my country – cars driving on the bus line, people swearing in traffic, red faced and angry.
An interest thing happened at the vegetarian restaurant I talked about earlier: my wife forgot her iPhone there. Things like this happen when you are traveling with kids and you have to deal with tantrums, carrying three hundred bags and holding three different types of snacks. She wasn't even 100% sure that she left it there and it had already been a couple of hours when she realized it was missing. A lost cause, we thought, but she still decided to go ask the people at Vega City. We were both surprised that not only a customer had found it and returned it, but the people working there also returned it to my wife without a problem. A very pleasant surprise and something that wouldn't happen anywhere in the world (although I hope that it would in more places than I believe it would).
It's a place where, despite the waves of tourists who can sometimes behave badly, you will always feel safe, entertained and happy. We sure did!
Our costs for living a month in Budapest
Now, let's get to the important part for many people reading this article: money! Below, I have the costs for our stay in Budapest.
Unfortunately, we didn't track the costs at all so we can't give you exact values in all areas. But total costs are better than nothing in my opinion, so here they are:
AirBnb: 856 Eur
Spendings: 1,300 Eur
Misc: 204 Eur
__________
Total: 2,360 Euros
It's not cheap, for sure, but the good news is that you can easily cut the costs a lot. We wouldn't choose an AirBnb that big if we visited again: 1 bedroom should be just enough and hopefully that would cut at least a couple hundred off the rental price. If you're traveling alone or if you're a couple, a studio might work just as fine, and you could easily find a really good one for half the price we paid.
The miscellaneous costs would stay about the same (health insurance and travel costs – we got there by train from Romania), but the other spendings could really go either way, up or down. We weren't there on an unlimited budget and tried to keep costs as low as possible, but we didn't always manage to do so.
We ate out a lot and, even though the cheap takeaway food we mostly ate was… well… cheap, it still costs more than what it would take to cook at home more often. We went a bit overboard with our gifts for friends and family and we also visited a lot of places with entrance fees (Museums, the Zoo, we went to their Aqua Park once and so on) – but Budapest has many beautiful things you can see for free.
In the end, I believe that a couple – or even a family – can easily cut a few hundred Euros off the costs and still enjoy their time there a lot. But in the end, the "ifs" and "coulds" don't matter and our actual costs are above.
All in all, we were really satisfied with how things ended and, even though it wasn't cheap in our books, we enjoyed every second of our stay in Budapest.