My first ever visit in Turkey took me to Kusadasi, which translates to Pigeon Island (or Dove Island). Although this is not the top destination in Turkey for a summer holiday, Kusadasi is impressive and we did have an amazing time there. (For the hotel I stayed in, check out my Arora Hotel Review).
Now it's time to learn more about Kusadasi: I am here to help you discover the things to do in Kusadasi, what are the attractions here, a quick look at the hotel and some tips and tricks for every tourist. In other words, a guide to Kusadasi, Turkey for those who choose it as their next travel destination.
Things to do in Kusadasi
The starting point for anybody visiting Kusadasi should be the city center: situated just minutes away from the Aegean Sea and the beautiful promenade, the city center is also near the Grand Bazaar, considered the main attraction for tourists.
Grand Bazaar – Kusadasi
The Grand Bazaar in Kusadasi is a real experience that you have to go through. Narrow alleys and tens – probably hundreds – of shops selling all sorts of goods, with sellers competing to lure you in.
You will be talked to, you will be everybody's friend, they will invite you in for a tea, for a smoke, for a talk, they will speak a few words in your language (no matter what it is) and you will soon start to feel dizzy. Just another day in the Grand Bazaar…
There are all sorts of things there that catch your eye, but most of them are tourist-priced and of poor quality (at least in my opinion). So I would consider the place ideal for getting fake goods or getting scammed. I don't deny the fact that there might be some good stuff there, but it's difficult to filter through everything.
We did buy a lot of things from the Bazaar in Kusadasi – mostly souvenirs and gifts for home and I do know that the people there like to haggle (which I don't as I am not used to it).
I can still remember how disappointed one seller was when, after I asked the price for a product and he told me, I just took out the cash and bought the thing. Afterwards I started haggling and bought everything some 20-30% lower. So do have this in mind when you visit!
Apart from the Grand Bazaar where you will find cafes, amazing ice cream shops (with the famous Turkish ice cream experience where you're made a fool of trying to get yout ice cream) and all the souvenirs you can think of (which makes it the best place to buy gifts for home), there are also three different markets in the city: Tuesdays and Fridays the fruit and vegetable markets and Wednesdays the very popular clothes market with tons of "genuine fake" designer goods for everybody.
To sum it up, if you check the Grand Bazaar in Kusadasi, there are two things to take into account before making a purchase: haggling is a must (you will usually get the products for at least half the price asked initially) and second, you should try to avoid purchasing things when the Cruise Ships are in the port since the prices are higher on these days.
However, I made all the souvenir and gift buying when Cruise Ships where in the port and I still didn't feel ripped off – meaning that the prices are not high by all means.
Promenade and Pigeon Island
You owe it to yourself to take a walk on the beautiful Kusadasi promenade and visit the Pigeon Island: an ancient fort and museum where the entrance is free.
Expect to see there the well preserved ruins, a beautiful view of the city and the Aegean sea and tons of olive trees… as well as cats. Cats are everywhere in Turkey!
In order to get to the Pigeon Island itself, you'll walk through the fish market and the harbor, where beautiful ships for daily trips are located (tip: buy trips directly from the boat captains for a better price!) and near the docking spaces of the huge cruise ships.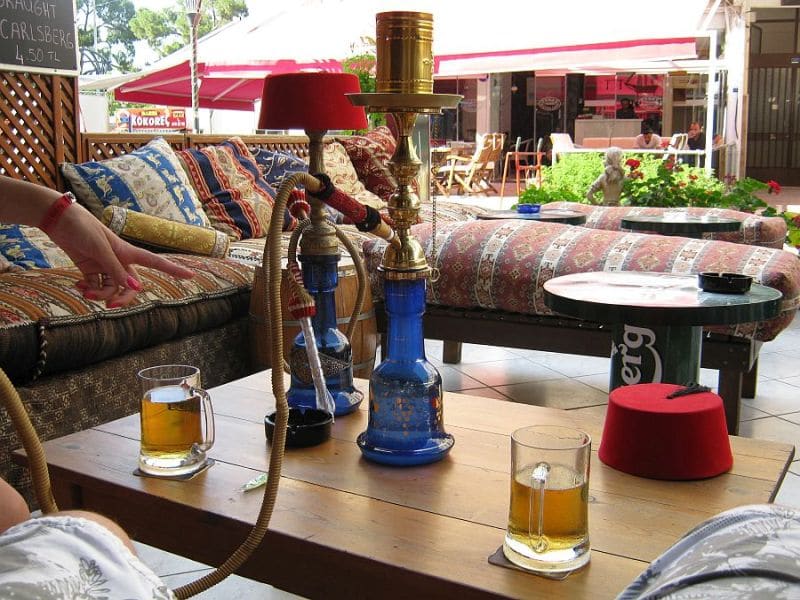 Make sure to find a terrace there and experience a true Turkish dinner, watching the sunset and enjoying the amazing view! We stayed at an all-inclusive resort (not the best of them, for sure, but still…) and we had to just sit there, enjoy a drink and a snack and a waterpipe.
Beaches in Kusadasi
Most hotels have their own private beaches and probably you won't need anything else, but in case you are one of the unlucky tourists in a hotel without a beach, there are a few free options for you: Ladies Beach, Long Beach, Silver Sands Beach or Love Beach, all of them in different areas of Kusadasi and are accessible with cheap Dolmus (a sort of a small bus) rides.
We didn't spend much time at these beaches since we used our hotel's instead, but from what we saw, they didn't seem extremely nice.
The beaches in Kusadasi are usually narrow, but sandy. However, having water-shoes will probably make the entire experience better since there are rocks in the water, as well as vegetation.
The water is clear though and beautiful and there are lots of brightly colored fish for you to admire if you have the required gear.
Regarding the private beaches of each hotel, it would be best to ask the management of the hotel you are going to visit: they vary from sandy to rocky beaches as well as artificial beaches built of concrete and even no beach at all!
And finally, for the most luxuriant beach experience in Kusdasai, you have the option to visit one of the town's Beach Clubs.
There are 4 beach clubs: Eleven's, Jade, Miracle and Elias and they each require a paid entrance fee, but you will enjoy the day and/or night on the big cushions and hammocks, sipping on the sweet drinks and listening to music. Dancing is also allowed and probably encouraged. You're there to have fun, after all!
More fun in Kusadasi
Of course, there are a ton of ways to spend the nights and days in Kusadasi and I will only talk here about ways to have fun in the town itself and not by going on various trips (which also offer even more ways to have fun).
We did take a few of those trips as well, from the harbor and couldn't be happier: our trip to Pamukkale was exceptional, for example, while the day we spent on a boat, beach hopping and relaxing was really good too.
Adaland
This is the most famous water park in Kusadasi and you will most likely love it just as much as we did – and everybody else who was there.
When we visited, the entrance fee for Adaland was about 20 Euros per person, but it's really worth it as there are a ton of amazing attractions for all people: tons of pools, water slides, decorations and entertainment, as well as a special area for kids.
In Adaland you can also go on a rafting course or check out their Seapark (you have to pay extra here though) where you can watch the dolphin show and even swim with sharks! Therefore, I think that one day of your Kusadasi holiday should be dedicated to visiting the Adaland – ours was and we had no regrets.
Turkish Night
Blending fun with the traditional Turkish food, a Turkish Night (available for purchase at your hotel) will certainly help you understand the culture better while enjoying some traditional Turkish dances, belly dancers and more!
Most all inclusive hotels in the area have thematic nights as well and you will automatically have a Turkish night during your stay, so you might not have to pay extra for this experience.
Hamam & Turkish bath
You can't go to Turkey and not try a Turkish bath, followed by a massage from the professional Hamams. The Turkish people even say that visiting the Hamam should be made during your first days of the holiday because it prepares your skin for the sun and makes your tan last longer!
We just went to a random place and our experience wasn't something to write home about, but in the end a massage is a massage and I would never say no to one, haha. But since you're going to pay a premium for this experinece, do a bit of research first and make sure you're going to a highly rated place.
As you can see, there are a lot of things that you can do in Kusadasi in order to turn your holiday into a perfect one – and this without the optional trips that you can (and should) buy from the local vendors in order to check out the surrounding attractions.
Actually, Kusadasi is so spectacular that we regretted purchasing the all inclusive package – we spent most of our time away from the hotel, exploring and enjoying the surrounding areas.
This is not very common in Turkey – later on, when we got there to an impressive hotel (Alva Donna) but away from major cities, we didn't even leave the resort! But here in Kusadasi, you have all the reasons to do so.