Pam Thermal Hotel (complete name: Pam Thermal Hotel Clinic & Spa) is a really beautiful hotel in Turkey – one that we had the pleasure of being guests of for a small amount of time. But ever since visiting it, we made it a plan to visit again.
Until that happens, I invite you to check out my current Pam Thermal Hotel review and decide if it should be put on your shortlist as well (or know what to expect in case you already booked it).
Situated really close to the natural world wonder Pamukkale, Pam Thermal Hotel is a 5 star hotel that had some celebrity guests in the past.
Nicholas Cage, for example, was one of the hotel's guests in the past, and they like to brag with it – there's even an autographed photo near the reception to prove it.
But does the fact that a celebrity Nicholas Cage was their guest is enough to make it a great hotel? Definitely not, although it does show that you can expect some really high quality service there… but let's read on and find out everything about the Pam Hotel in Pammukale.
Things to know about Pam Thermal Hotel Clinic & Spa
Everybody refers to this hotel as being in Pamukkale, but the truth is that it's actually in a nearby village, Karahayit. This is a touristy village, with multiple hotels in the vicinity, but offering very little to do on its streets.
[quads id=3]
However, you shouldn't worry too much about it as you have everything you need inside the Pam Thermal Hotel itself, while Pamukkale is just a stone's throw away.
Obviously, the main big thing about the Pam Hotel is the thermal pool itself: a red water that has temperatures of 58 degrees Celsius (136 degrees Fahrenheit) and which is said to be effective in orthopedic and neurological illness, as well as rheumatic diseases, various candidest, hypertensions, varicoses and hemorrhoid treatments.
This makes it a perfect choice all year-round: just imagine visiting during the winter and getting inside that hot water… relaxing and also a unique experience!
We went there in July, during the peak season though, and it was still extremely pleasant, even though the thermal water was a bit too hot for the already hot days of the Turkish summer.
Still… the location of the hotel itself is really nice: surrounded by nature (so the air is clear) and on top of a hill, its higher elevation makes temperatures more bearable and the entire experience even more pleasant.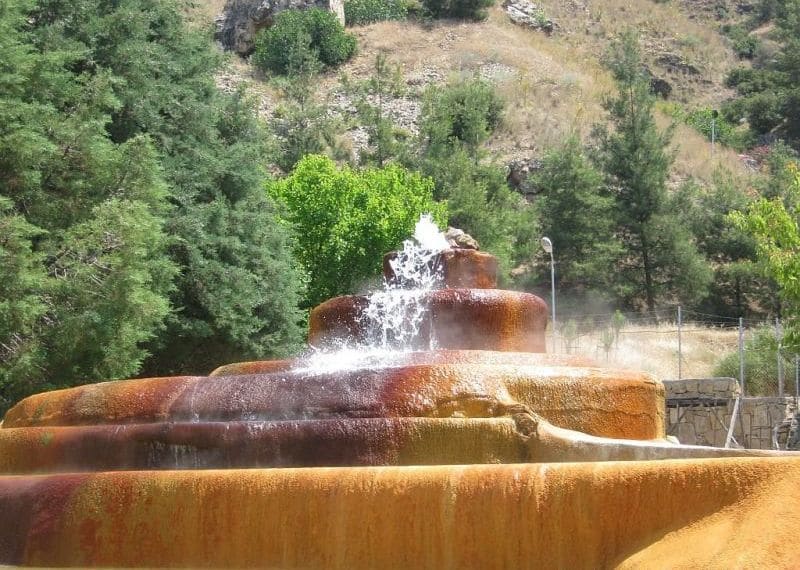 [quads id=4]
But even if you don't really want to jump into the hot thermal water, there is a "normal" pool available as well: the water there is great and you even have the option for a "mineral bath" in your room. Which is really amazing!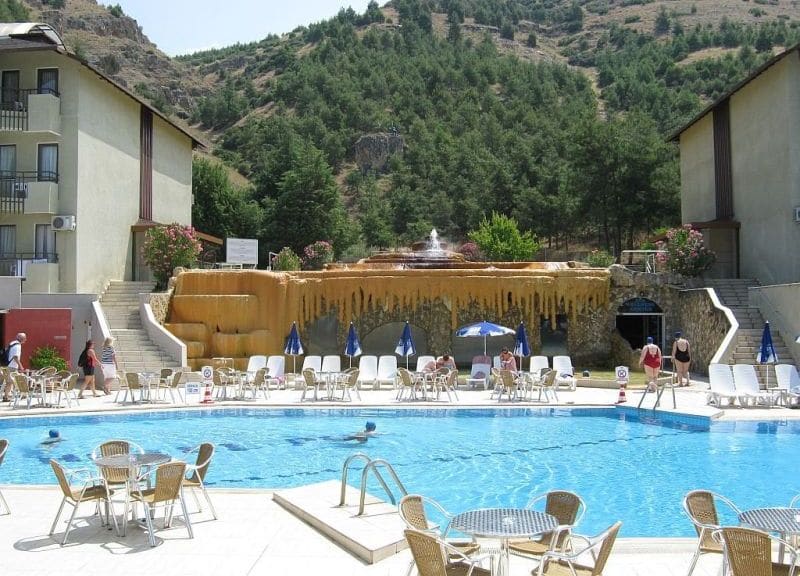 But not the thermal water or the location is what made me love Pam Thermal Hotel: it was the view, the surrounding areas and the vibe of this hotel that is both large and somewhat cosy at the same time.
At one side, you have the mountains that make the hot weather in Turkey more bearable and all around you there are Palm Trees and flowers and vegetation and tons of places for relaxation.
The fact that it's not a huge hotel either and it never seems to be running at full capacity (after all, the beach is a couple hours away) is also a good thing for those who want a holiday to relax and let the nice, clean air fill their lungs… and the mineral waters to work their magic for their overall health.
[quads id=5]
Yes, this is definitely not a party place (there wasn't even an animation team when we visited), but it's perfect for those who try to run away from all the craziness that summer vacations sometimes come with and instead just relax, enjoy the nature, read a good book and just be lazy.
Pam Thermal Hotel Review: the rooms
The rooms in Pam Hotel are what I would consider the regular 5-star Turkey resort hotel. They are large and clean, well maintained and with comfortable beds, but without being in any way spectacular.
The views are also good, even though you don't get sea views here (simply because, as I already said, this is not a beach resort). However, the rooms are overlooking the forest or the gardens, which are both spectacular.
[quads id=6]
There are extra pillows if you need them and each room has patios or balconies. And as long as everything is well maintained, I don't think that you will really have any reasons to complain.
What I really liked was the fact that instead of one huge building, there are actually several (eight, if I remember correctly) smaller buildings for the guests. This makes the whole thing seem cozier and even more relaxing.
Food at Pam Thermal Hotel
The food at Pam Hotel is, like all food in Turkey, a very delicate subject: there are people who love it and those who really hate it.
The folks here really do their best with the food though and we had 6 main courses to choose from and tons of salads and sweets so really I think that even the most demanding person can find something to eat.
For me, the food was absolutely delightful and I totally loved it. The 6 extra pounds I had gained when I returned home are the (unfortunate) living proof of that.
[quads id=7]
Even though the photos I took with my old camera make no justice to the food there, trust me when I say that it was really delicious: you had a lot of things to choose from, including international and Turkish cuisine and the ingredients they used didn't give you the impression of something cheap as it usually happens with All Inclusive hotels.
With the desert, things could've been a bit better in my opinion as they were too sweet and there wasn't a lot of variety with each meal… and you had limited amounts of fruits to choose from, but despite all these, I was really happy with the food there.
The entertainment does not excel either: there is a disco downstairs and a photographer that takes pictures for a ton of money and there are regular shows booked by the hotel (belly dancers and so on) but there is no entertainment team to keep you busy throughout the day, which underlines what I said earlier: Pam Hotel is a hotel where relaxation is the top priority and not partying.
[quads id=8]
I fortunately never missed the animation team and completely enjoyed the silence, the nice water and the clean air.
The staff is friendly and mostly professional. They try to do their job the best way possible, but they barely speak any English so it is pretty difficult to have a conversation with them – and usually it's pretty difficult to make yourself understood.
But they are always smiling, at least, and they say that a smile always solves a lot. If not, you can try with signs and eventually things will get done.
Fortunately, we didn't really have any problems during our stay, so our interactions with the staff were minimal, so we didn't really have any reasons to complain here either.
Pam Thermal Hotel: Is it worth it?
Overall, Pam Hotel in Karahayit / Pamukkale is more than a decent hotel that will make you feel welcome and, most importantly, it will help you relax a lot thanks to the general vibe, the massages and the hot baths.
It is never crowded – or at least it wasn't when we visited (and it was the peak of the season!) but some travel tours seem to have a deal with the hotel itself and sometimes you'll see guests on their way to Pamukkale take a break at Pam Hotel.
But for most of the time, you will feel that you are in an oasis for relaxation: away from the sea, but closer to nature. And, if you ever get bored, Pamukkale is just a few minutes away.
If you would like to book your stay here you can do it via Booking.com [affiliate link.]