I remember how excited I was when I first heard my friend say that we're going to Olympic Beach, in Greece. Situated at the base of Mount Olympus (where the Greek Gods reside), Olympic Beach can be nothing but a bit of heaven on earth where we drink ambrosia and feel like Gods, right? Well… unfortunately, not!
And this true story proves why you should always do some research about a destination before you actually get there (or, actually, before you book it!) and not trust your friend who "knows better". Lesson learned!
Why I didn't like Olympic Beach so much
I definitely had very high hopes before leaving (and no research done). This is usually the perfect recipe for failure and in my case, that's how it turned to be.
Also known as Olympiaki Akti, this is a tiny village in continental Greece, relatively close to Thessaloniki and even closer to Katerini, the closest large city to the West.
The village itself seems to be a man made resort, especially for tourism. It's definitely a small place (Wikipedia lists a population of 320, but I doubt there's anybody there when the season's over) and as a result, there's not really much to do.
As a fun thing, before going, my friend told me that we have a hotel that's just 500 meters away from the beach – which was true and indeed seems good, but the only problem was that our hotel was last in line in Olympic Beach since the resort itself is so small!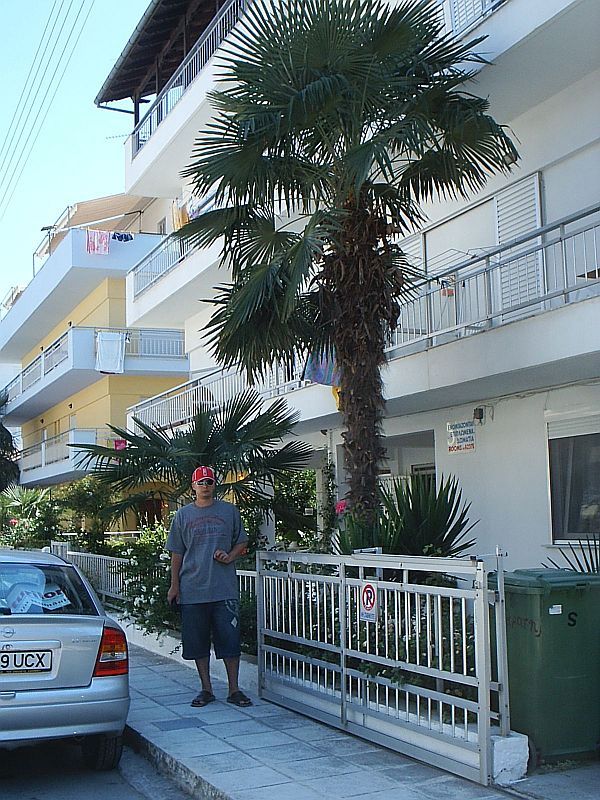 We were literally seeing corn fields from the balcony of our room, even though we were indeed very close to the sea. Another lesson learned: never let your friends book important trips/vacations!
The biggest problem with Olympic Beach is the fact that there's really not much you can do there: a 10 minutes walk and you've seen everything there is to be seen in the resort itself, and going to the beach is basically the only thing you can do.
Sure, going to the beach doesn't seem like a bad thing – especially since that's the reason why you are there, in the first place, but I personally like to have more options and be in a slightly bigger place.
And mount Olympus itself is pretty far away in reality and not as impressive as you first think, adding to the overall disappointment of this small resort. Or at least that was my case…
The beach itself is not the cleanest I've ever seen, either, but at least it is wide and nice, while the water – also with some algae here and there – is really good (more on this later). If you want to use the sunbeds, you will have to buy something to the taverns that own them – usually a drink or two, which isn't that bad.
You don't have a lot of options for eating out: there are several Greek taverns, but apparently just a few are actually good. It's easy to see which are which based on the number of customers there: some are empty, some are full.
We decided to risk it and try one of the taverns that had no customers once and, surprisingly, the food was really good and the customer service was even better (they offered us freebies to keep us there as long as possible, probably to attract more customers – unfortunately for them, we didn't lure in any new tourists.
All restaurants have a cheap feel to them, from the furniture to the food and everything in between. This is a budget resort and you can't expect it to offer luxury for such low prices, but if you want something a bit better, you don't have the option to get it there.
All in all, this tiny resort fails to impress. There are places that I click with instantly, as soon as I get there and others that fail to impress me, even though I really want to love them: it was the same with Prague, it was the same with Olympic Beach aka Olympiaki Akti.
Being so small and created for tourists only, it has no personality. You don't feel that you are in Greece. You could be anywhere in the world, you could be at home… there's nothing really to stand out and nothing to click with you when there.
The good things about Olympic Beach
Even though I don't consider this resort one that should be recommended to most people who want to visit Greece, I won't say that it's entirely terrible. On the contrary!
The beach itself fortunately is not one to be criticized, as I have already said it. It's large and relatively clean and if you want to spend a few extra Euros you can rent a chair and get a free cocktail for the price.
The water is also nice and not very deep, there are small fish in the water and you can spend a few days having fun in the sun and swimming. The water is actually the thing that I liked the most.
Also, since Olympiaki Akti is a relatively unknown resort in Greece, it is not too crowded. There is a lot of room around, the large beach helping you feel like you're in your own world and for those looking for peace and relaxation, that's the only thing they'll get plenty of in Olympic Beach.
The people are also extremely friendly there – we haven't met a single person that didn't treat us nice and who didn't do their best to make us feel perfect.
The host in our small villa – who spoke no English at all – was always smiling and trying to tell use things in German (which we mainly didn't understand) and came almost daily with treats – a large, fresh fig or other fresh fruits… these are things that really make a difference and surprisingly, very few people actually do them.
Also, the place is very close – a really short bus ride to Paralia Katerini, a larger resort with a lot more things to do and see. You can even walk there along the beach, if you are brave: but expect to spend around 30 minutes walking. The bus gets you there in just a few.
Even though on the small side, the resort won't lack offers for tours and extra things to do: spending a Greek night on a ship, with traditional food and dances is a great way to break the routine and trips to nearby attractions can also be purchased in the resort.
We didn't get anywhere, because we wanted to just relax and recharge our batteries – which we did for sure!
Another great thing about Olympic Beach is that it's extremely cheap. The deal that we got at the villa we stayed at was just 100 Euros per person, for 7 nights. We only had the room included (and a view of a corn field), but there aren't many places in Europe where you can spend so little for accommodation in a resort.
The food there was also extremely cheap – and even though the plates were never Instagram-worthy, the food itself was filling and delicious. Not a lot in terms of variety, but you never risked going hungry, on the contrary – prepare to come back with a few extra kilos!
So if you're looking for a very cheap destination in Greece, Olympic Beach is definitely one of them. There's not much to do once you get there and it might not even really feel like Greece… but you can still make it work if you want to.
Now, many months after we've been there, I have to be honest and say that I fondly remember the place and it seems charming in its own way: cosy and friendly and perfect for relaxation. I didn't feel the same when I was there: I didn't really like it, but in the end it's all good!