I remember how excited I was when I first heard my friend say that we're going to spend our holiday at Olympic Beach, in Greece. Situated at the base of Mount Olympus (where the Greek Gods reside), Olympic Beach can be nothing but a bit of heaven on earth where we drink ambrosia and feel like Gods, right? Well… I couldn't have been more wrong!
And this true story proves why you should always check your holiday destinations on the internet, even if it's your friend promising that it will be great!
Olympic Beach in Greece looks like a very small man-made holiday place that's very close to the better known and much bigger Paralia Katerini, a city that you can fortunately visit daily when in Olympic Beach and overall a better holiday destination that this little bugger.
Before going, my friend told me that we have a hotel that's just 500 meters from the beach – which was true and indeed seems great, but the only problem was that our hotel was last in line in Olympic Beach since the resort itself is that wide! We were literally seeing corn fields from the balcony of our room. And that's not necessarily pleasant when you're on holiday.
And the fact that Olympic Beach is so small results in the fact that there's really not much you can do there: a 10 minutes walk and you've seen everything there is to be seen in the resort and you can only go to the beach.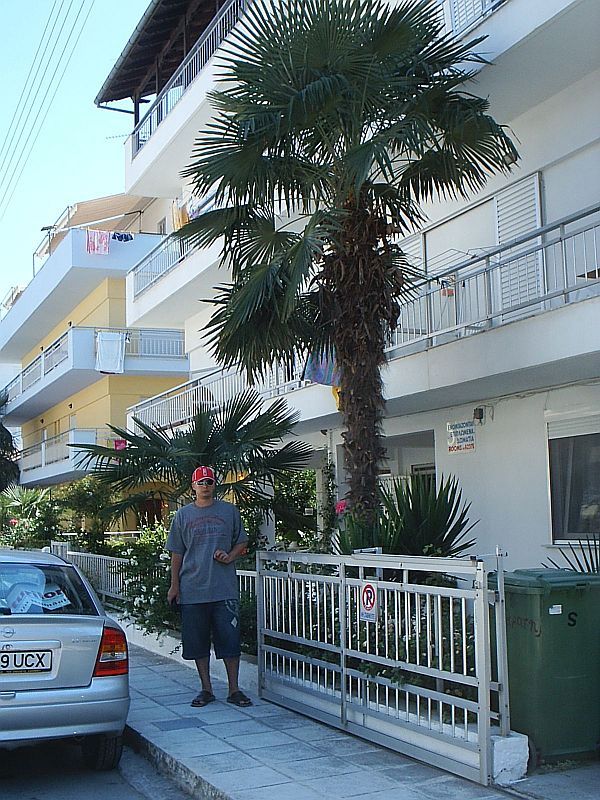 The beach itself fortunately is not one to be criticized. It's large and clean and if you want to spend a few extra Euros you can rent a chair and get a free cocktail for the price. The water is also nice and not very deep, there are small fish in the water and you can spend a few days having fun in the sun and swimming.
The choice of restaurants is not that huge either and even though Olympic Beach is filled with small Greek taverns, only a few stand out. You'll easily notice which these are since these will be the ones that are not empty. But don't expect anything too fancy – you get quality food for a low price, but you can't really go over the top.
And speaking of prices, Olympic Beach is extremely cheap. The stay at the hotel itself was cheaper than cheap (it was almost 100 Euros per person for 7 days) and the food there, like anything else, is dirt cheap. And their food, with all that olive oil, is extremely delicious. But every now and then, especially since you're on vacation, you might feel the need for a fancier restaurant, and you can't find one in Olympic Beach.
And mount Olympus itself is pretty far away and not as impressive as you might consider it to be, adding to the overall disappointment this small resort will leave you with. Or at least that was my case…
So no, I would not go there again even if I were offered a free ride. But what about you? Have you been to Olympic Beach? Did you like it or not? Let us know in the comment section below!